Staff
As a financial representative for Northwestern Mutual, Steve Thompson is commited to helping his clients, whether they are concerned for their own financial needs or those of their family or business.  He takes customer service very seriously, as does his team. Together, they are committed to providing exceptional customer service to all of their clients.
If you have a problem or need assistance at any time, please let us know.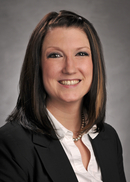 Rachael Marie Ayers
Operations Manager
Mobile 570-406-9122

Rachael joined Northwestern Mutual as a College Financial Representative in the summer of 2011. She quickly excelled in the field, qualifying for and attending Winter Camp in February of 2012. She accomplished Target 20 for the 2011-2012 Awards Year, and was ranked 8th in the Top Women College Representatives. While in the internship program, Rachael also took on the recruiting position of Campus Ambassador. This role enabled her to set up class or club talks and participate in career fairs on college campuses in order to educate students on the Northwestern Mutual internship program.
Rachael graduated Magna Cum Laude from Misericordia University in May, 2013 with a Bachelor's degree in Management and a minor in Marketing. Her passion for Northwestern Mutual drove her to accept a full time position as an Associate Financial Representative with Stephen M. Thompson CLU®, Recruiting Field Director at Northwestern Mutual- Scranton/Wilkes-Barre. In early 2015, Rachael transitioned into the role of Director of Financial Representative Support where she was responsible for sales and marketing strategies for her representative's clients, assisting in the application process, underwriting procedures, and ongoing insurance service. She later took on the role of the office manager, and handles customer requests with great pleasure, utmost care and proper discretion. She enjoys her role because it provides an opportunity for continued learning and growth.
Rachael attended Activity Coaching Clinic in June, 2015, to become the RACE coach for Scranton/Wilkes-Barre. She enjoys coaching young representatives to become a "Granimal", and provides feedback, challenge, and support on a daily basis for all representatives their first 6 months in the business. She enjoys this role as it is both challenging and rewarding when tying daily activity to each individual representative's vision and goals.
Rachael is an asset to both the business practices of her representatives, and the culture of Northwestern Mutual as an entirety. She is licensed for life, disability, and long term care insurance, as well as variable life insurance, variable annuities, and municipal fund securities. During her spare time, Rachael enjoys the gym, reading, Philadelphia Eagles games, the New York Yankees, her golden retriever, Jameson, and spending time with friends and family. How can Rachael help you?